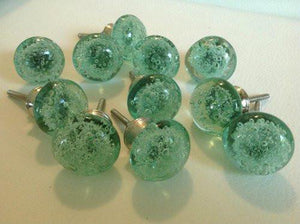 Mint Green Glass Bubble Cabinet Knobs 1.25 Inch Lot of 10

Mint Green Glass Bubble
Dresser Drawer Pulls, Cabinet Knobs
Manufacturer Seconds, Lot of 10 Knobs

 
Coastal drawer pulls for furniture, kitchen, bath, or closet updates.  As a cabinet knob or drawer pull, this mint green bubble knob works well with beach or ocean decors. Reimagine exterior made simple.
New cabinet knobs, drawer pulls with manufacturer variations in bubble density, position, or bubble size. Screws and bases have no damage and are similar in size, color, and finish.  Screw threads are all in perfect working condition.  
Diameter:         approx.    1.25"
Screw length:    approx.    1.40" to 1.60"
Screw length is intended to be customized.  Click here for Install Tips.
Mint Green Glass Knobs are filled with air bubbles.
Brass base with a silver satin finish.
Installation hardware included.
Tighten with care.
Condition:  Manufacturer seconds.
In stock, Next-day shipping.
Item sold as:  Lot of 10 knobs.


Glass Bubble Knobs are packed with great care and handling to ensure safe delivery.  We are ready to combine purchases for shipping discounts. 
---