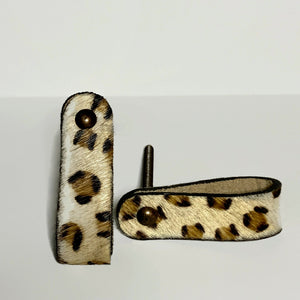 Faux Leopard Loop Drawer Pulls 2.60 Inch

Faux Leopard Loop Pulls
 
Enhancing drawers or doors with faux leopard loop pulls adds a novel attraction to your space. These loop pulls crafted with a faux leopard pattern are recognized by designers and planners as drawer straps, blending equally well with safari and animal-themed decors. 

Furniture or cabinet drawers and doors will drawer all eyes toward these fashionable loops. The faux leopard pattern is a simple way to add a great new look to a dull desk or cabinet.


Length:            2-5/8" 

Width:                 3/4"

Screw length:   2-1/8"

Screw length intended to be customized.  Click here for Install Tips.

Tighten with care.

Installation hardware included.

Next-day shipping.

Item sold as:  Lot of (1) piece.


This item will be packed with special care and handling to ensure safe delivery. We are happy to combine purchases for shipping discounts.


Note:  Photo of two straps is for display purposes only.
The photo does not represent a "pair" or "set" of straps are for sale.
 
---